There's something comforting in the fact that no matter how much money Jeff Bezos makes, or how many lunches he attends with Vogue's editor-in-chief, Anna Wintour, the third-wealthiest man in the world continues to have absolutely no drip. Especially when he puts on a cowboy hat.
Or at least that was the feeling this week, when the billionaire posed for his fiancee Lauren Sánchez's Vogue profile wearing his favorite piece of headgear. It was a bit of a throwback to 2021, when he donned a cowboy hat during his first trip to space in a Blue Origin rocket.
People hated it back then – the San Francisco Chronicle asked, "Did Jeff Bezos just ruin cowboy hats for everyone?" – and they hate it now. "This looks like a print ad for Viagra cologne," one X user wrote. Another user accused the billionaire of stealing Kenny Chesney's stylist.
The ultra-rich have long worn western clothing in an attempt to blend in with the working class. The former Mexican president Vicente Fox called George W Bush a "windshield cowboy" – someone who can drive a pickup truck but isn't comfortable on the back of a horse – to dispel 43's swaggering Texas persona. In 1992, the noted Stetson fan Ronald Reagan gave Mikhail Gorbachev a cowboy hat as a gift … which the Soviet leader put on backwards. Bezos's fellow space cowboy Elon Musk recently wore a Stetson at the US-Mexico border and looked so goofy people accused him of having it on the wrong way (he didn't).
Is Bezos's attempt really that bad? Though he at least wore it frontways, real cowboys say his hat comes across as a costume. Michael Grauer, a curator at the National Cowboy & Western History Museum, lectures about the accessory across the country.
"The first question I usually ask the crowd is, 'What do you call a man in a western hat?' And the usual answer is, 'a cowboy'," Grauer explained. "But I say, 'No, that's a man in a western hat.' It's a way to co-opt the mystique, to appropriate the symbol of the man on horseback who symbolizes freedom and liberty."
Call it Yellowstone-core, which is a bona fide fashion trend in the wake of Paramount's blockbuster series about a Montana ranching dynasty. And one could argue that Bezos is a rancher — he owns over 150,000 acres in west Texas, where the Vogue profile was shot. That's not exactly a qualifier, though, according to Grauer.
"There are plenty of people who own ranches who don't know which end of the horse does one thing and what does the other," he said. "A cowboy hat doesn't make you someone who espouses the cowboy code. You can wear the clothes, the hat, the boots all day, but unless you embrace what a cowboy really is, frankly, it's just a costume."
In 1995, Bill Reynolds co-wrote The Cowboy Hat Book, and as part of his research, he spent a day as a hat salesman watching people try the pieces on. "I can tell you that when a person puts on that hat, it changes them," Reynolds said. "I don't know who they see in the mirror, whether it's John Wayne or Kevin Costner, but it changes a person's perspective on themselves."
But there's an idealism to the American cowboy, Reynolds said, that is incongruous with Bezos's image as poster boy for a second Gilded Age. "People always look to the individualism of the cowboy: that his handshake is his bond, and he works an honest day's work for an honest day's pay," he said. "The symbol of that hat gives people a lot of peace of mind." Unless said hat sits upon on a certain executive's head.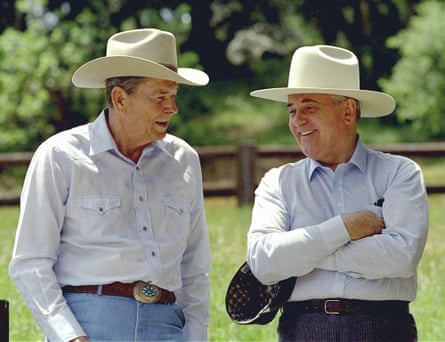 It isn't just the cowboy hat part of the Vogue photoshoot that proves Bezos is no proper ranch hand, Grauer adds. "If he was a cowboy, he wouldn't be wearing a short-sleeve shirt, because that's how you get hurt [out in the field]," he said, referencing the plain white tee Sánchez clings to while embracing the billionaire. "It's subtle, but it's the small things like that."
Reynolds wonders if the issue is simply one of proportions. In his words, big brim hats can make shorter people "look like a sprinkler head". (Bezos is 5ft 7in.)
Whatever the case, the stink of a PR stunt is all over Bezos's get-up. "I think somebody probably said to him: this is going to soften your image a tad," Reynolds said. "I thought it looked a little forced. But at the same time, I think he was having fun with it."