Kickstart your day with a morning meal that puts a pep in your step. When it comes to breakfast, the options are endless … and delicious. Breakfast offers a world of tasty possibilities, and this week, I'm sharing some of my favorite meals that deliver on health perks and taste.
First up, a savory and mouthwatering breakfast sandwich that rivals that of your beloved bodega.
Next, my love of berries and Greek yogurt (or cottage cheese) come together, crowned with a drizzle of peanut butter, in my peanut butter and berry breakfast bowl.
For those who prefer to toast in the morning, you can easily swap the bowl for a slice of whole-grain bread topped with the simplest, no-added-sugar, two-ingredient blueberry jam.
Finally, get an energy and brainy boost with my smart smoothie — yes, it even has coffee, making it the ultimate multitasker for those hectic mornings.
These simple options make it easy to enjoy a nourishing meal at the table or on-the-go, so you can munch or sip in stride toward your day's adventures.
The bacon, egg and cheese breakfast sandwich (aka B.E.C.) is an iconic classic, and here in New York, it's a way of life. Sinking your teeth into a combination of scrambled eggs with melty cheese and crispy bacon nestled between the halves of a soft and fluffy roll is nothing short of a magical experience. If you'd like to re-create this magic at home in a slightly better-for-you manner, here's my approach: Swap out the roll for an English Muffin, choose turkey or Canadian bacon, and channel your inner minimalist when it comes to the condiments. The result: a warm, hearty and healthy morning sammie that's packed with protein and satiating power. Get ready to rise and shine!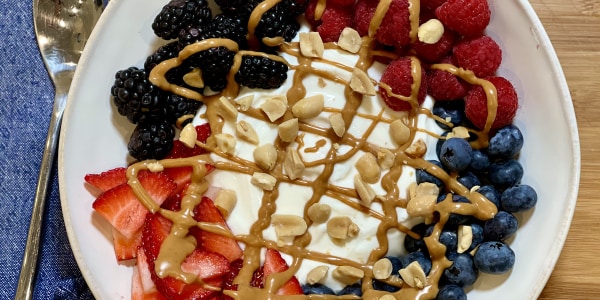 Joy Bauer
Easiest. Recipe. Ever. This breakfast bowl is what it's all about: It's got everything you need for a magnificent morning meal or afternoon snack attack. And you know what I always say: You are the boss of your recipe. You can alternate between berries for a pretty presentation or stick with just one for an equally delicious dish. Also, feel free to swap the yogurt with cottage cheese, use your preferred nut or seed butter, and garnish with nuts, seeds or granola.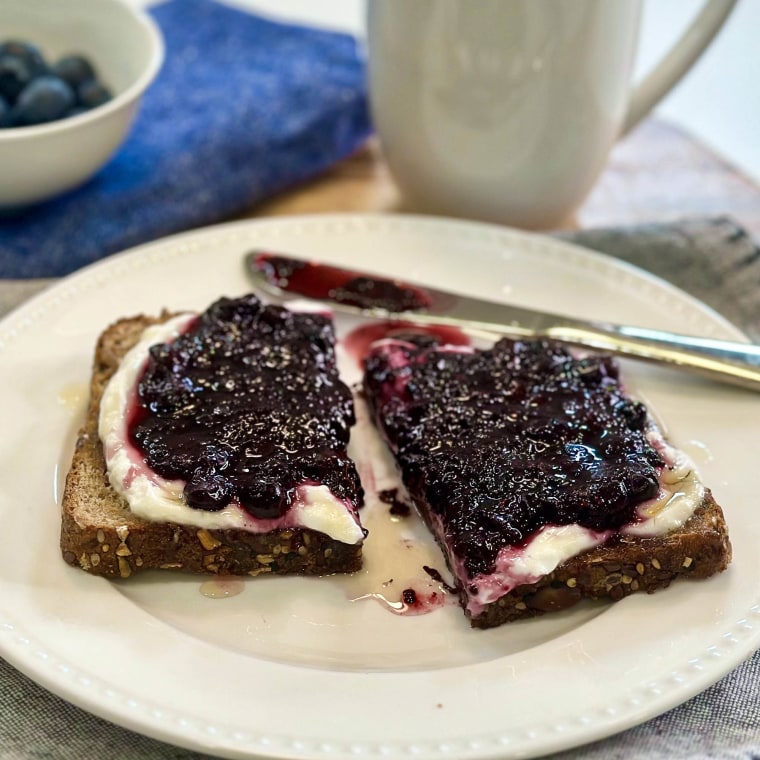 Elevate your breakfast experience with this delightful and nutritious blueberry toast! No need to settle for mundane, predictable toppings anymore because this revamped version is a burst of juiciness and pure satisfaction. Infused with antioxidant-rich berries and protein-filled Greek yogurt or cottage cheese, it's a heavenly slice that will dazzle your plate and tantalize your tastebuds. I add a small dose of chia seeds to play double duty; they add omega-3 fats and help the blueberry juice thicken into a fabulous texture. This quick recipe is a perfect way to conquer your breakfast cravings.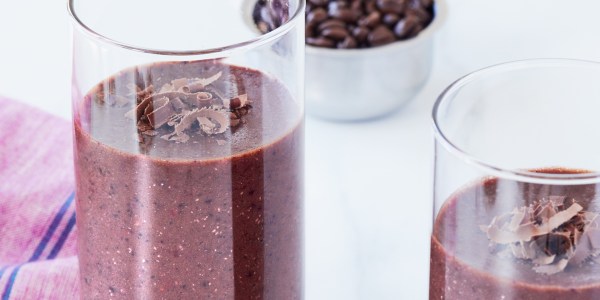 Lucy Schaeffer
Start smart! Boost brainpower and energy in the morning with this delicious mocha-berry smoothie featuring three foods shown to help improve cognition and lift brain fog: blueberries, cocoa powder and coffee. (For kids, use decaf coffee or swap the coffee with milk.) This splendid smoothie is loaded with fiber and antioxidants, and it also offers healthy fats thanks to the chia seeds and flaxseeds. For a tasty spin, make a smart smoothie bowl. Place leftover smoothie contents (or the entire double portion) in the fridge, covered, for a few hours or overnight. The gelling effect of the chia seeds or flaxseeds will transform your smoothie into a pudding-like consistency that's perfect for a brainy bowl of goodness. Top with extra berries and/or yogurt and enjoy!