All fruits have their season, but apples never go out of style. Whether you're celebrating Rosh Hashanah or you're just looking to cozy up with a sweet apple dessert, I've got an air fryer recipe that'll knock your socks off. It's simple to make and looks like you bought it from a bougie bakery: Treat yourself to this 15-minute apple and honey turnover.
I love this recipe because it has the flavor of a complicated apple pie but it bakes up in a fraction of the time—and it uses frozen puff pastry, which never lets me down. Puff pastry is easy to work with, and as long as you remember one thing, it's almost impossible to screw up. That one thing: Don't let it get too warm. Work with puff pastry while it's still cool but pliable in order to keep the flaky layers intact and ensure a nice rise in the oven. If it's hot in your kitchen, that might mean you have to work on a cutting board and periodically pop it into the fridge or freezer to firm it up if it starts to get floppy or melted.
How to make apple turnovers
Thaw your puff pastry as instructed on the box. Usually this means leaving it in the fridge for a few hours or taking the sheets out and putting them on a cutting board at room temperature for about 45 minutes. Once thawed, put them in the fridge until you're ready.
Peel and core three apples and cut them into half-inch chunks. You could slice them but I think chunks are easier, and the shape is more friendly to this recipe. Toss the pieces into a medium pot with a couple tablespoons each of butter and raisins. Cook over medium-low heat for about five minutes. The apples will just begin to soften and the raisins will plump up. Don't overcook the apple pieces; they should still have integrity in the middle because the air fryer will further cook them later. Turn off the heat and stir in a tablespoon of honey. If you like spices or citrus, you can stir them in now. I added a sprinkle of cinnamon and a pinch of salt. Pour the mixture and any juices into a large bowl to cool.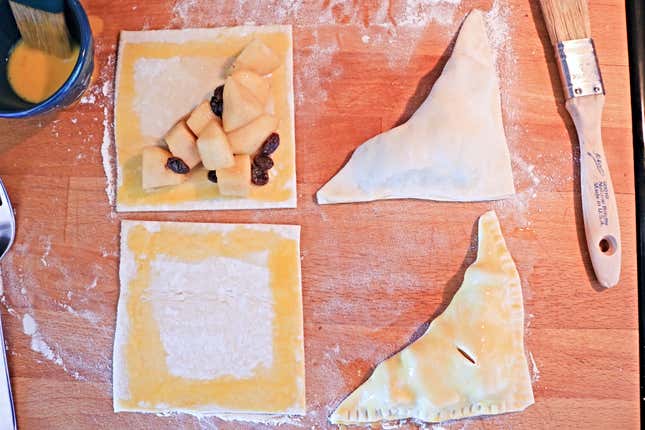 Unroll a sheet of thawed puff pastry on a lightly floured work surface. You're going to cut this into four square quadrants, which means you need to start with a square. My sheet of puff was nine and a quarter-inch by eight and a half; not quite a square. If this is the case for you, use a rolling pin to work the sheet out until it is the correct size. Cut the sheet into four squares. Using a small pastry brush, paint a border around all four edges with an egg wash. This will help keep your filling from bursting out the sides.
You'll be folding this square corner to corner to make a triangle, so imagine a line across the middle diagonally. Pile the honey apple filling onto one side, about two spoonfuls. Don't overload it, but be generous. Pull the side with no filling up and over the apples so the corners meet. Press the tips first and then work on the sides to make the egg washed edges meet firmly. The pastry can stretch over the filling, so pull a little and keep as many apples in as possible, but it's OK if you lose a chunk.
Use the prongs of a fork to press the edges and ensure good contact. Egg wash the top of the turnover and cut a vent in the top of the pastry. Repeat this until you use all of the filling. Place the turnovers in an air fryer preheated to 300°F set to the "air fry" setting. Cook for 12-15 minutes until the tops are nicely browned and crisped. Cool on a wire rack for a few minutes and top with a drizzle of honey before serving.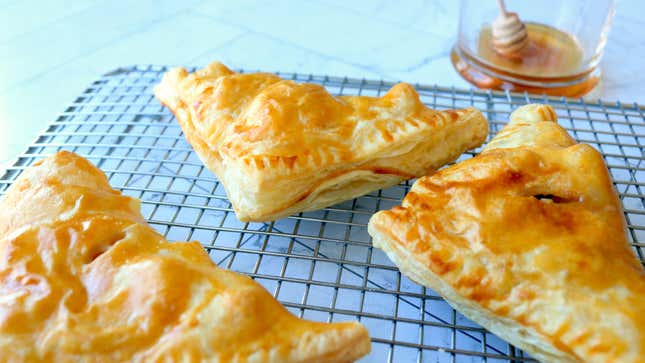 This recipe makes about six turnovers but you could stretch it to eight if you use large apples. While you could omit the raisins, I feel they add a nice contrast of color and a pop of extra sweetness. (Who doesn't want a little extra sweetness to welcome the new year?) Instead, try substituting the raisin measurement with any other dried fruit that you chop to be about the same size.
Air Fried Apple and Honey Turnovers
Ingredients:
1 ½ – 2 sheets of puff pastry, thawed
3 apples (I used gala), peeled
2 tablespoons butter
2 tablespoons raisins
1 tablespoon honey
¼ teaspoon cinnamon or other dry spice (optional)
Pinch salt
Egg wash
Preheat the air fryer to 300°F. Cut the thawed puff pastry into four squares per sheet. If your pastry sheets didn't start out as squares, use a rolling pin to roll them lightly until they are. Let the squares rest in the fridge until the filling is ready.
Core and cut the apples into ½-inch chunks and put them in a medium pot with the butter and raisins. Over medium-low heat, gently cook the apples until they begin to soften and the raisins plump. This takes about five minutes. Turn off the heat and stir in the honey, salt, and any spices. Pour the honeyed apples into a bowl to cool to room temperature.
Put the puff pastry squares on a lightly floured surface and lightly egg wash all of the edges. Pile a couple spoonfuls of the apple filling onto half of the pastry squares. Pick up one corner and lift it up and over the apple filling so the corners touch. Stretch and work the pastry down on both sides so the egg wash makes contact. Use a fork to press and seal the edges. Egg wash the tops, and cut a vent into the top of each turnover.
On the "air fry" setting, cook the turnovers at 300°F for 12-15 minutes or until well browned and crispy. Cool briefly on a wire rack before serving with a drizzle of honey.