Ljubljana, Slovenia, Oct. 13, 2023 (GLOBE NEWSWIRE) — The international DKGcon – Decentralized Knowledge Graph Conference gathered pioneers in Internet and blockchain technologies, as well as Artificial Intelligence (AI), in Ljubljana, Slovenia, on Monday, October 9, 2023. They discussed how to distinguish between credible and fictitious information and knowledge in the era of generative AI, and what is the role of new technologies in this (such as blockchain and decentralized knowledge graphs). They also discussed how these technologies will impact the economy and society in general in relation to AI.
DKGcon 2023: Fireside chat with Dr. Bob Metcalfe, Internet pioneer and Ethernet inventor, and Branimir Rakic, Co-Founder of the OriginTrail ecosystem, moderated by Ivan On Tech, Founder of Moralis Academy.
At DKGcon the conference participants shared practical examples of how to create connected information and credible knowledge from fragmented data and how to connect this with generative AI for various purposes. They shed light on how these technologies are already changing the operations and businesses across various sectors – from supply chains, pharmaceuticals, construction, and consumer products, to education, media, and the metaverse.
The forefront of the conference was the open-source OriginTrail Decentralized Knowledge Graph (DKG) that has Trace Labs as core developers. Solutions based on OriginTrail DKG are breaking new ground in establishing digital trust, increasing transparency, optimizing business processes, enabling new ways of consumer interaction with products, as well as new ways of creating using advanced technologies such as blockchain, decentralized knowledge graphs, and AI.
The innovation, transformative nature, and effectiveness of the developed solutions are endorsed by global organizations such as the British Standards Institution, the World Federation of Hemophilia, GS1, the Supplier Compliance Audit Network (SCAN), and others. Together with Trace Labs, these organizations and other business partners, as well as members of the open-source OriginTrail community, also presented various solutions at the conference.
One of the distinguished speakers at DKGcon 2023 was Wes Levitt, Co-Chief Investment Officer at Alpha Transform Holdings, who shed light on the recently launched solution based on the OriginTrail Trusted Knowledge Foundation that brings trust to the financial industry. This solution, called chatAnalyst.ai, is set to revolutionize how financial services companies can develop their business lines while eliminating the current AI solutions pitfalls by allowing financial businesses to access quality data with verifiable provenance.

While demoing the solution live Wes Levitt said, "If I'm an investment professional presenting to my investing committee I will get laughed out of the room if I say 'I got the information out of a bot; don't worry, for sure it's correct'. My manager will expect me to have highly sourced content before making million-dollar investment decisions. In the case of chatAnalyst.ai we can see the source content of the answers provided by the chat interface. By going to the OriginTrail DKG Explorer we can easily explore the underlying documents and the on-chain activity of when it was stamped on blockchain which makes it immutable. Not only do we have the source content to confirm, but also the provenance of when it was put there. This solution will change the way financial analysts work immensely."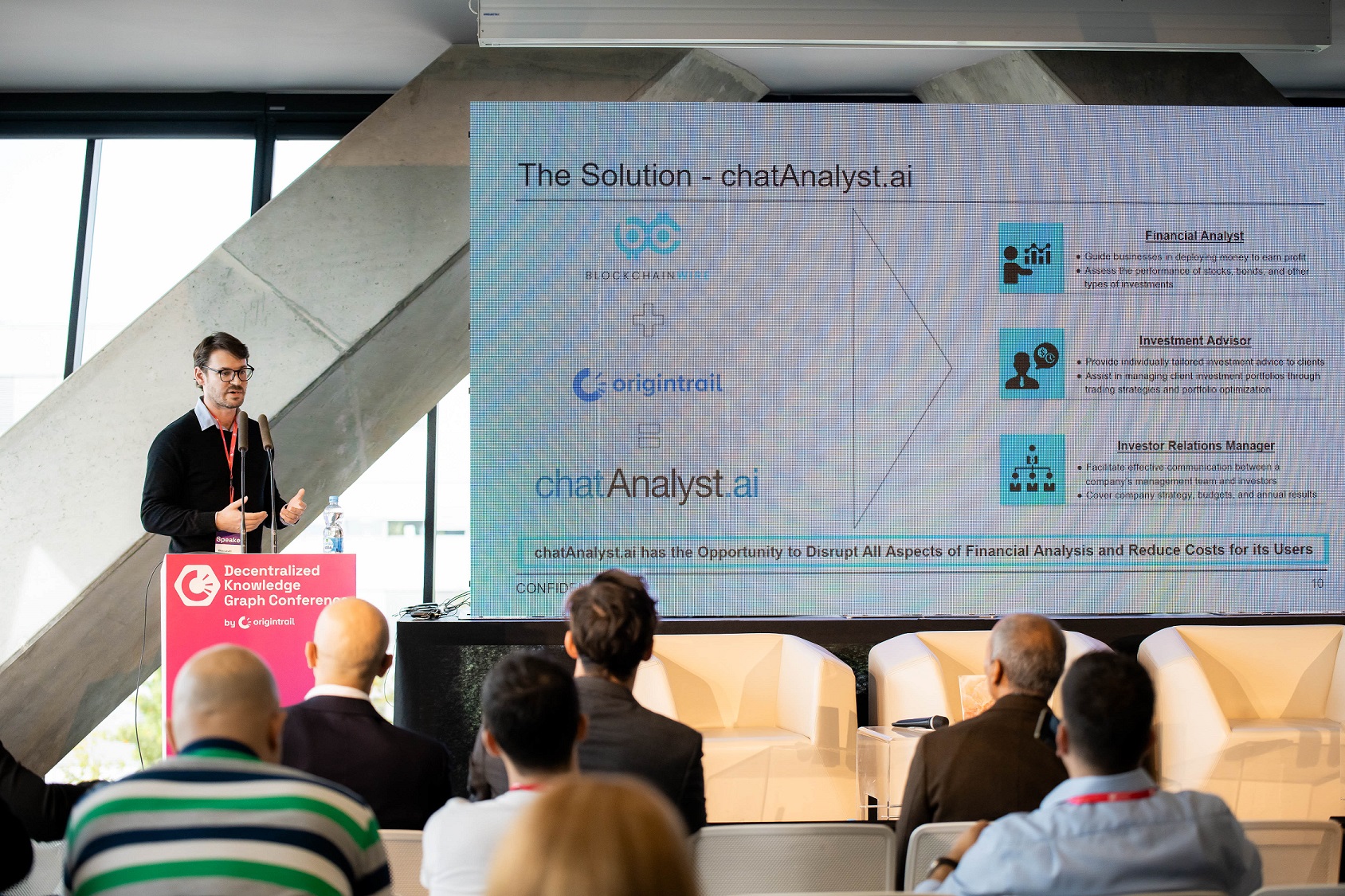 Wes Levitt, Co-Chief Investment Officer at Alpha Transform Holdings, presenting chatAnalyst.ai, which is set to revolutionize how financial services companies can develop their business lines.
Another esteemed speaker at the conference was Dr. Bob Metcalfe, Internet pioneer, and Ethernet inventor, also the recipient of the Turing Award, often referred to as the Nobel Prize for Computing, who discussed: "The hunch is that a mixture of connectivity, decentralized knowledge graphs, and blockchains are converging. This convergence is important because it is going to help us with one of the biggest problems we have nowadays, which is the truth. All over the connectivity space people are having trouble deciding what is true. This is where the Decentralized Knowledge Graph (DKG) comes in; it feeds the truth to the AI systems we put on top of the DKG."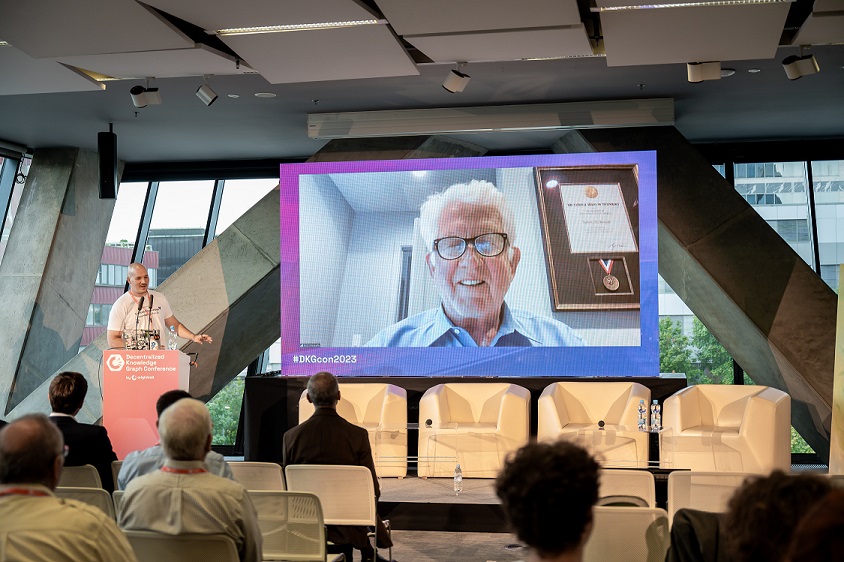 Dr. Bob Metcalfe, Internet pioneer, Ethernet inventor, and the recipient of the Turing Award (Nobel Prize for Computing).
The day after the conference took on a more informal tone as all the speakers and conference attendees engaged in networking activities. Against the picturesque backdrop of the Ljubljana skyline, a special "proof-of-steak" picnic was organized, during which the esteemed guests were treated to a delectable culinary experience featuring dishes crafted from premium local ingredients.
At this gathering, participants had the unique opportunity to delve into the origin and background of products offered by a prominent Slovenian poultry producer, Perutnina Ptuj, and the Slovenian farm association, KZ Šaleška dolina. This exploration was made possible through the utilization of OriginTrail technology as the underlying framework. By simply scanning a QR code, attendees were able to unveil the narrative behind these products. They could literally "chat" with a product in a trusted manner, including ascertaining the farm of origin, exploring a variety of recipes for the meats, and discovering additional relevant information. This seamless and immersive experience was made possible by the integration of OriginTrail and GS1 Digital Link technologies, which have redefined the way consumers can interact with and gain insights into products.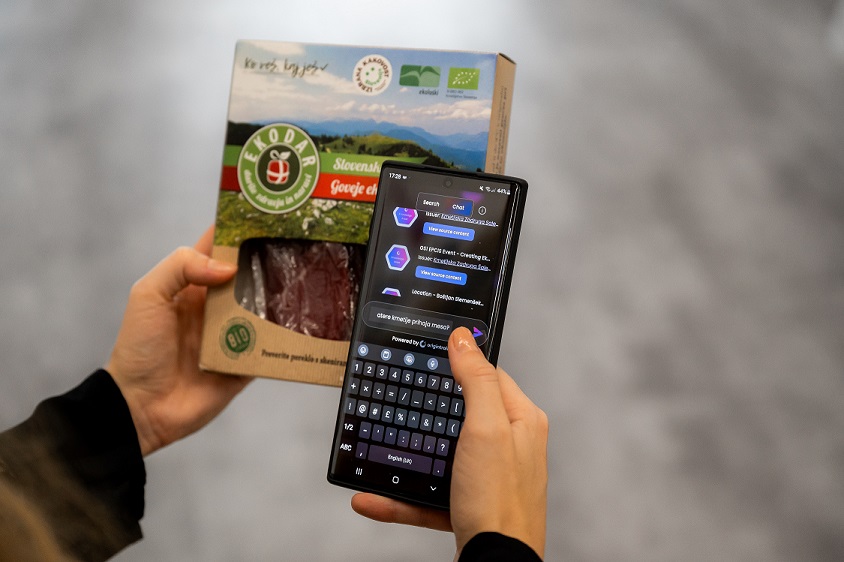 New solution based on OriginTrail and GS1 Digital Link – users are chatting with a product in a trusted manner.
The topics discussed at the conference and the event itself garnered significant interest, even from the Slovenian media.
---
About OriginTrail:
OriginTrail is an ecosystem dedicated to making the global economy work sustainably by enabling a universe of AI-ready Knowledge Assets, allowing anyone to take part in trusted knowledge sharing. It leverages the open-source Decentralized Knowledge Graph that connects physical and digital worlds in a single connected reality driving transparency and trust. 
Advanced knowledge graph technology currently powers trillion-dollar companies like Google and Facebook. By reshaping it for Web3, the OriginTrail Decentralized Knowledge Graph provides a crucial fabric to link, verify, and value data on both physical and digital assets.
About Trace Labs:
Trace Labs is the core developer of OriginTrail — the open-source Decentralized Knowledge Graph. Its technology is being used by global enterprises (e.g. over 40% of US imports including Walmart, Costco, and Home Depot are exchanging security audits with OriginTrail DKG) in multiple industries, such as the pharmaceutical industry, international trade, decentralized applications, constructions, and more.