Since we had breaking Fancypants news yesterday, this week's Monday Menu is a day late, but definitely not a dollar short. Here are two bits of news for your weekly meal planning.
---
If you just can't seem to rally from the rack in time to join the line at Pancake Pantry in Hillsboro Village, clear your dinner schedule tonight and help out an amazing cause as the venerable flapjackery offers breakfast for dinner from 5 until 9 p.m. this evening. Yes, it is National Pancake Day, but longtime readers know that I hardly ever write about those industry-created promotional days, weeks or (ugh) months.
What makes this particular event noteworthy is that Pancake Pantry is donating 100 percent of the evening's profits to the Franklin-based NoahBRAVE Foundation, a nonprofit created to honor the memory of 13-year-old Noah Evans who was diagnosed with brain cancer in September 2019 and died 16 months later. His foundation provides aid to families facing similar predicaments to allow them to concentrate on spending their remaining time together by helping to deal with the burden of life expenses.
Noah was a big Pancake Pantry fan, and if you need help picking a menu item tonight, you should know that his favorite dish was chocolate chip pancakes. Guests are also encouraged to wear something to commemorate some of Noah's other favorite things: the color green, Marvel movies, the superhero Dr. Strange, the Auburn Tigers or crazy socks. (Bonus points if you can combine all of those into one outfit!)
In addition to the Sept. 26 fundraiser, both locations of The Pancake Pantry have been donating $1 for each chocolate chip pancake order throughout the month of September to commemorate Childhood Cancer Awareness Month.
---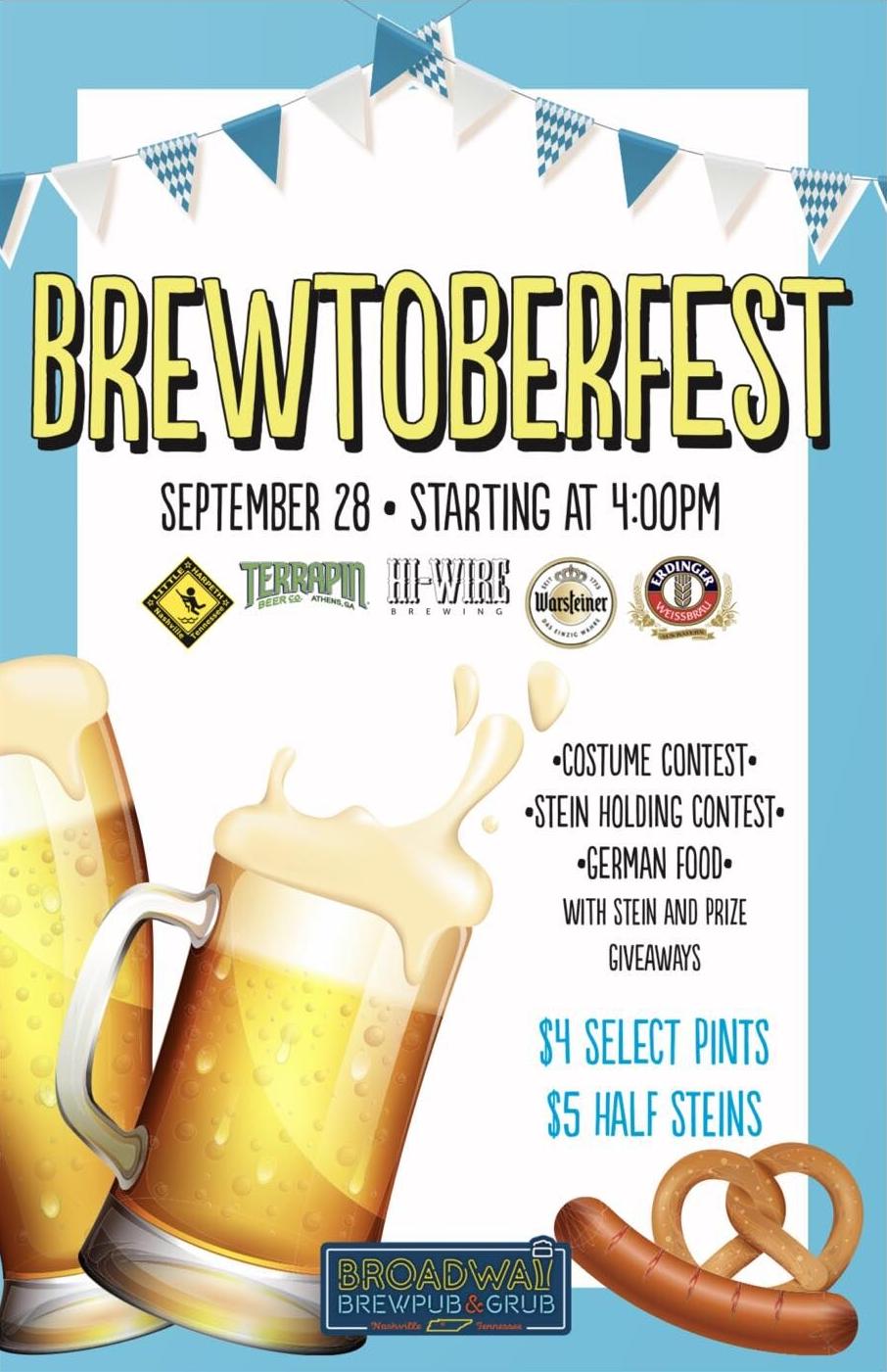 Later this week on Thursday, Sept. 28, Broadway Brewpub & Grub celebrates its first Brewtoberfest, sponsored by Terrapin, Hi-Wire, Little Harpeth and Warsteiner. I told you about the reopening of the Midtown favorite last spring, and if you haven't had the chance to drop in and see the new incarnation, now would be an excellent opportunity.
They'll be offering $4 pints and $5 half steins of the featured brews, and you can keep the half stein as a souvenir. They'll even have boot-shaped flagons if you're feeling froggy enough to tackle "Das Boot." (I know, I know. That actually means "the boat" in German, but roll with me on this one, people!) 
Here's the list of the featured beers:
Terrapin — Oktoberfest
Terrapin — Past Time Pale Ale
Hi-Wire — Oktoberfest
Hi-Wire — Lo-Pitch Hazy IPA
Little Harpeth — Prost!
Little Harpeth — Deer Crossing Helles
Warsteiner — Oktoberfest
The fun kicks off at 4 p.m., and they'll have a couple of tents set up on their dog-friendly patio if you want to release the hounds. Two stein-holding competitions will take place at 5 and 7 p.m., followed by a costume contest at 7:30 p.m. for those wearing traditional Bavarian garb. In addition to the contest prizes provided by the presenting sponsors, there will also be various swag giveaways throughout the evening. 
The kitchen will offer a small speciality food menu of brats, pretzels and beer cheese to complement the brews. Prost!