Summary
Yamaha's 2023 scooter lineup includes the Zuma 125 and XMAX, both great choices for urban use with key differences that may influence a buyer's decision.
The Zuma 125 is user-friendly, affordable, and beginner-friendly, with ample storage space, an easy-to-read display, and practical features like a lockable cover.
The XMAX is marketed as a premium scooter with premium looks, modern technology, and rider aids like traction control and ABS. It offers larger storage space, better suspension, and a more powerful engine.
Motorcycles and scooters have shared the roads of the urban jungle and its outskirts for more than a century. Most accounts point to the invention of a two-wheeled vehicle meant for transportation back in the early 19th century, when German inventor Karl von Drais de Sauerbrun created what would come to be known as the first bicycle in 1817. A century later, Arthur Hugo and Joseph Merkel created the first motorized scooter or Autoped.
The first motorcycle powered by a gasoline engine was born in 1886 by German engineers Gottlier Daimler and Wilhelm Maybach. Since then, both motorcycles and scooters evolved. Each veering towards a specific path, mainly due to its innate design architecture. Motorcycles are usually better at a number of applications such as off-roading, long distance traveling, racing, among others. But scooters remained an incredibly practical and accessible urban commuter, offering ease of use and cargo space all boxed in a compact and light package.
Yamaha's 2023 scooter lineup consist of two models, the affordable and efficient Zuma 125, and the more tech and performance oriented XMAX. Both are solid choices for urban use, but they also have key differences that might influence a buyer's decision for one or the other. In this article, we'll get to know them better, point out their pros and cons, and hopefully help customers decide which one would be the best fit for them.
All information regarding technical specifications and features for the XMAX and Zuma 125 were provided by Yamaha. Estimated fuel economy data was sourced from owner's info gathered by Fuelly.com.
RELATED: Who Invented Motorcycles? The Story Of The First Motorcycle
The 2023 Yamaha Zuma 125
Scooters are often less expensive than other motorcycles, making them a sensible choice that offers practicality and economy for everyday use. Insurance and maintenance costs are usually lower too. The Yamaha Zuma 125 is very user-friendly, and a great beginner bike as well. It has a V-belt (CVT) automatic transmission and an electric starter, along with a standard center and side stands. The ignition switch has a locking cover for peace of mind when leaving the Zuma parked on the streets. The usual 'step-through' scooter design is there, mening the rider doesn't need to throw his or her leg over the bike, but merely lift it a bit and place his feet on the floorboard in front of the seat, which has plenty of storage room beneath it.
The under the seat storage compartment has enough room for a full face helmet. There is another smaller storage compartment at the front that has a USB socket so that the rider can charge his device while riding. The Zuma also features an LCD with a fuel gauge, indicator lights and speedometer. All easy to ready even during daylight.
The Zuma delivers on good ergonomics with a comfortable riding position with a narrow seat design for easier flat-footing both feet. There is plenty of legroom for the rider in front of the seat. The rear passenger has dedicated foldable footrests and handholds available. The telescopic front fork is wide and strong with 33mm inner tubes. The rear features twin rear shocks with 3.1-inches of travel. The Zuma has a steel-tube frame and comes equipped with 'heavy-duty' tubeless tires that have a robust block pattern and are mounted on small 12-inch lightweight wheels. Braking, like the XMAX is also taken care of by discs both at the front (245mm) and at the rear (230mm). The braking system is unified, making both brakes work together even if just one is used by the rider, helping the rider reach controlled stops. The Zuma is much lighter than the XMAX, with a wet weight of 282 pounds.
RELATED: 10 Scooters And Mopeds That Helped Mobilize The World
The 2023 Yamaha XMAX
The XMAX is marketed by Yamaha as a Sport Scooter, featuring a liquid-cooled engine. The XMAX has a striking design too, with aggressive lines and its signature X shaped LED headlights. It has premium looks and has modern convenience and technology built in. The XMAX also features an automatic CVT transmission, and rider aids such as traction control and ABS. Its frame is designed to be light and provide neutral handling, making the Scooter approachable to new riders who want something a little more peppy than a 125 cc engine.
The XMAX boasts a much larger underseat storage, capable of holding two full-face helmets. Its fairing also features two additional storage compartments, with one having a 12V DC outlet. The LED lighting comes standard and the XMAX makes full use of it to enhance its design approach. These lights complement the XMAX's aggressive looks and help make it clearly visible to other vehicles on the road.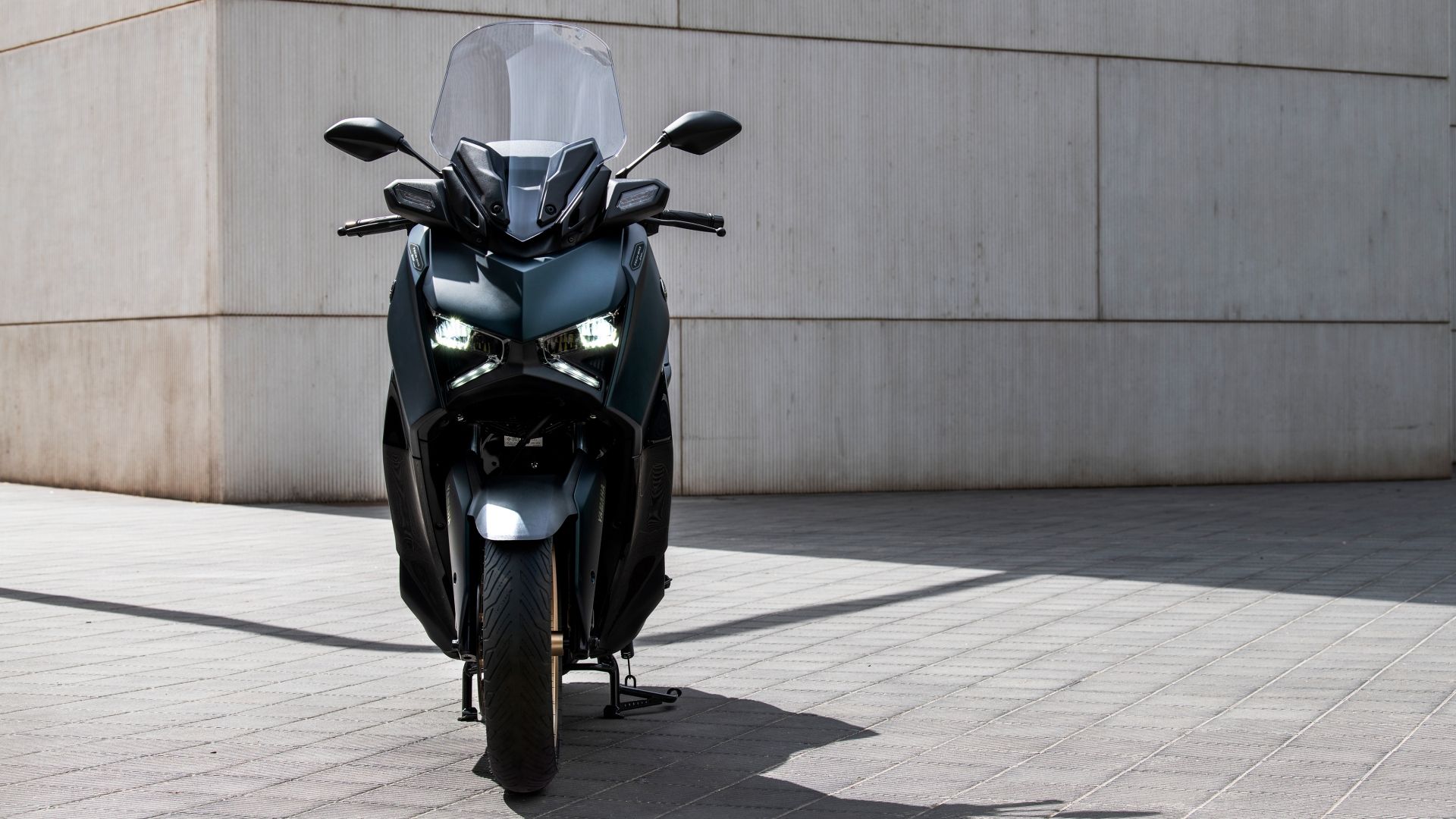 Anti-lock braking system comes standard with the 2023 Yamaha XMAX. The braking power is produced with the help of a 267mm front and 245mm rear disc brakes. The wheels are large for a scooter, with 15-inch up front and14-inch at the back, equipped with Dunlop tires for optimal grip both in wet and dry scenarios. The XMAX employs a lightweight steel frame and sports a wet weight of 397 pounds. The front fork is bolted to the steering stem both at the top and at the bottom triple clamps, unlike most scooters. This setup provides strength and chassis rigidity, a better damping feel and shock absorption.
RELATED: 10 Things We Like About The Yamaha XMAX 300
Engine Specs And Fuel Economy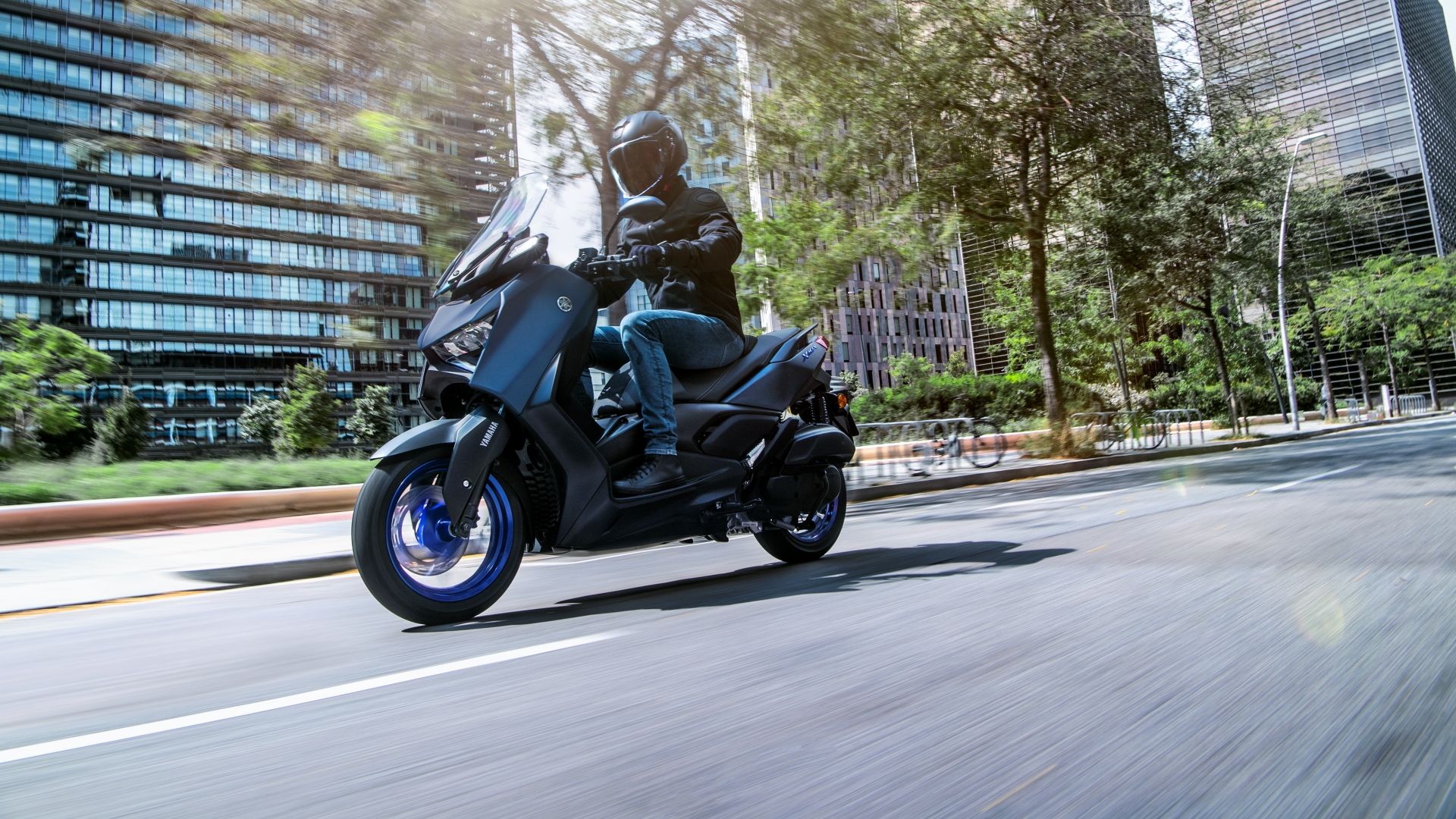 Both these scooters have a single cylinder, liquid-cooled, internal combustion engine, but the XMAX has more displacement as opposed to the smaller unit in the Zuma.
2023 Yamaha's Scooters Engine Specs
| | | |
| --- | --- | --- |
| | Zuma 125 | XMAX |
| Engine type | 125cc liquid-cooled, 4-stroke, SOHC single cylinder; 4 valves | 292cc liquid-cooled, 4-stroke, SOHC single cylinder; 4 valves |
| Bore x Stroke | 52.0mm x 58.7mm | 70.0mm x 75.9mm |
| Compression ratio | 11.2:1 | 10.9:1 |
| Fuel delivery | Fuel injection | Fuel injection |
| Ignition | TCI (Transitor Controlled Ignition) | TCI |
| Transmission | V-belt Automatic | Automatic CVT |
| Final Drive | V-belt | V-Belt |
| Fuel Capacity | 1.6 gallons | 3.4 gallons |
According to data gathered from fuelly.com, the Zuma 125 has an impressive fuel economy of 77.3 MPG on average, while the XMAX does 70.2 MPG on average. Based on these numbers and the much larger fuel tank of the XMAX, its range between fuel-ups is also much bigger.
RELATED: 2023 Yamaha XMAX 300: Performance, Price, And Photos
The Price And Verdict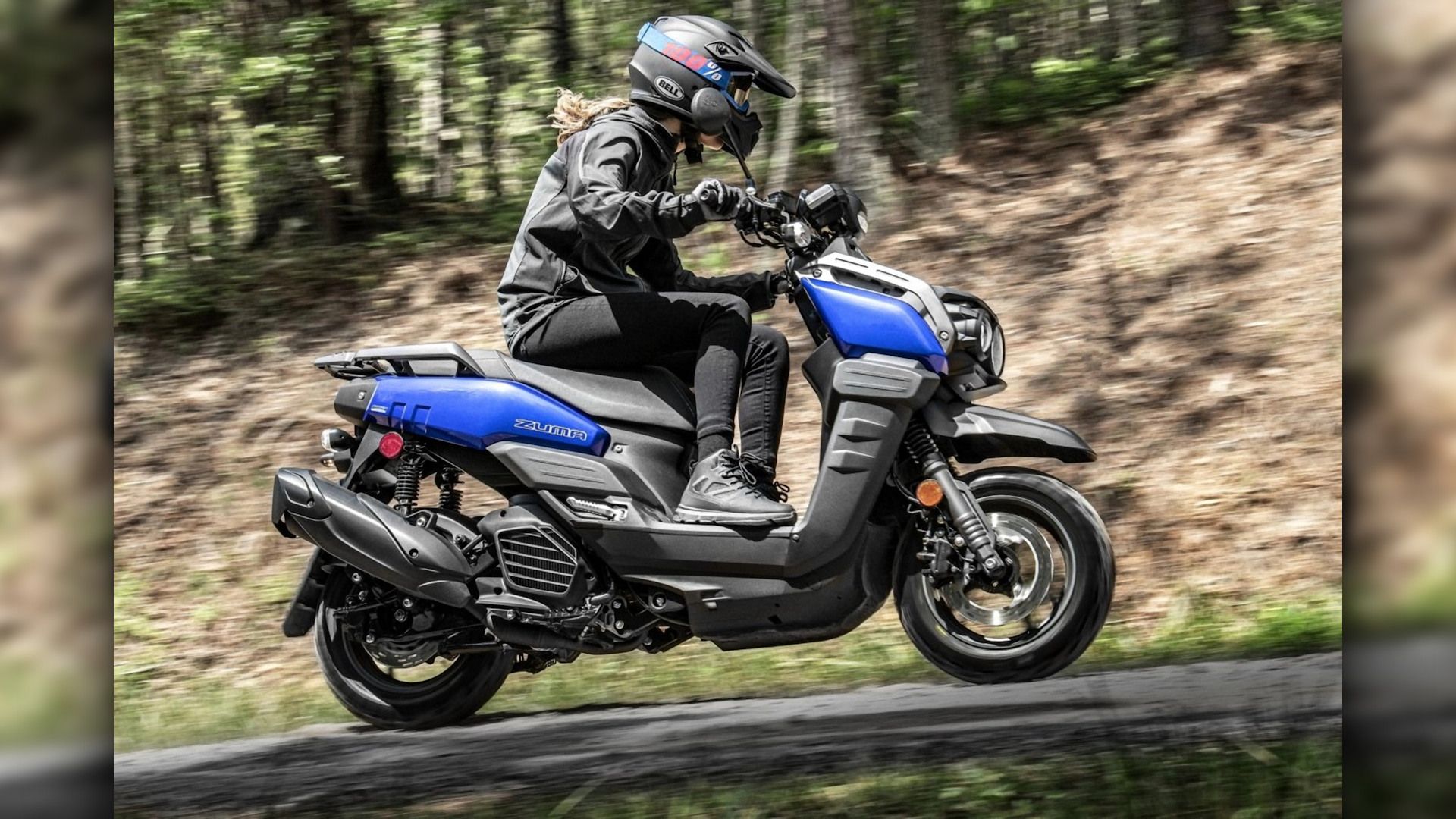 Both the XMAX and Zuma 125 are excellent scooters in their own distinctive ways. The XMAX has a more assertive and aggressive presence on the road, better suspensions and can be ridden hard easier due to its more powerful engine and well-balanced chassis. Its available cargo space can be very convenient too. The Zuma is impressively well engineered for an entry level scooter. Its tiny engine is fuel injected, liquid-cooled, and even has variable valve timing. The XMAX has a starting MSRP of $6,099, hardly a bargain. The Zuma, on the other hand, has a much more affordable starting MSRP of $3,799.
In the end, each of these scooters will satisfy different needs. But looking at it objectively, if there's no frequent highway riding involved, the value proposition of the Zuma 125 is looking hard to beat.